There are 220,000 people in Illinois living with dementia due to Alzheimer's Disease. By 2025, that number will increase to 260,000 people. The staggering number doesn't even account for those affected by other types of dementia or cognitive impairment. AgeGuide is committed to building dementia friendly communities where everyone can thrive.
What is a Dementia Friendly Community?
A dementia friendly community takes action to improve the quality of life for people living with dementia, their caregivers, and their families. Decreasing stigma, raising awareness, educating, increasing opportunities for meaningful social interaction, and offering support to address the changing needs of those with dementia takes a continuous community-wide effort. Being a dementia friend is an aspirational goal that all community stakeholders — individuals, organizations, groups, governmental leadership, and law enforcement — can meet.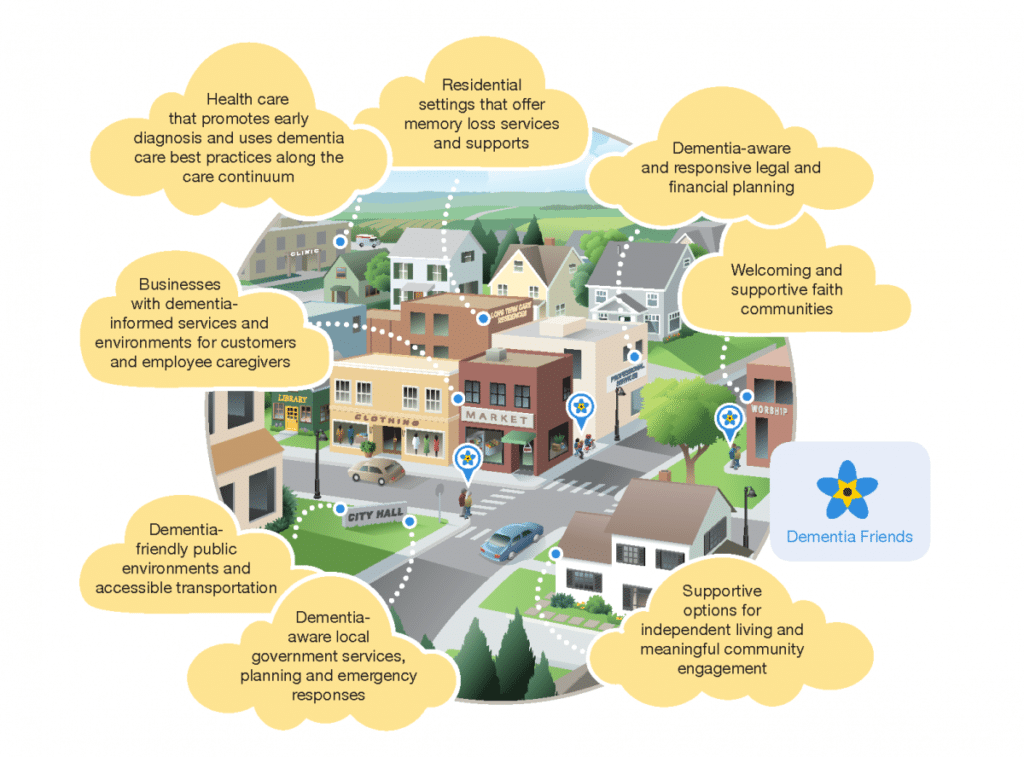 Getting Started: Becoming a Dementia Friendly Community
The Dementia Friendly America Community Toolkit is one of many resources provided by Dementia Friendly America to help guide communities through the process of becoming dementia friendly. More resources can be found at their website, which is linked below.
Interested in becoming a Dementia Friendly Business?
AgeGuide offers specific Dementia Friendly Trainings to address the unique needs of different types of community providers, businesses, and organizations (both for-profit and non-profit). To request training through our online AgeGuide Learning Center, complete this inquiry form. Next, AgeGuide will reach out with further instructions and steps to get your training started.
What is required to become a Dementia Friendly Business:
At least 50% of front-line staff participate in training
Leadership and management complete training
A team leader is appointed as the dementia friendly liaison to lead the initiative and be the main point of contact for AgeGuide
A commitment to sharing trainings with new hires and current employees and to maintaining a dementia friendly environment based on best practices
Upon meeting all the standards, your business will officially receive the Dementia Friendly Business designation. AgeGuide will provide you with a completion letter and a window cling that your business can display or post electronically. Employees who complete the training successfully will receive a printable certificate.
AgeGuide's Role
Each Dementia Friendly Initiative is unique. Community leaders and their teams will lead the initiative. AgeGuide's role is to provide 3–5 hours of initial support and resources including:
Providing Dementia Friendly Business Trainings
Educating businesses about dementia
Discussing the role of dementia friendly organizations
Explaining the value of being a dementia friendly community
Exploring communication strategies and best practices
Offering objective guidance and support
Assisting with high-level community outreach and education (Community leaders will provide the necessary grass roots, local-level outreach)
Facilitating discussion of community goals, action plans, objectives, and evaluations
For more support on becoming Dementia Friendly, please contact Caitlyn Tolentino at (630) 785‑2396 or [email protected].